For those families, needing Student Bussing to 2016/17, Registration is now closed.  Please go to the Bus Registration page, for information on Late Bus Registrations for 2016/17.
Rosa Willner,
Secretary
Fun Day is tomorrow, weather permitting, in the event we need to cancel, we will send out an email by Auto Dialer by 8:15am.
This is a reminder to all parents that they will need to provide a packed lunch for their children. There will be no hot lunch provided, volunteers who are here for all day, will be off from 12 to 1:00pm for lunch, and those volunteering for the afternoon, do not need to be at the school until 12:45pm. The PAC will be providing a snack of chips and juice, which teachers will distribute at recess or lunchtime.
Also a reminder that pizza lunches are now over. Yesterday was the last pizza day so please ensure that you send a packed lunch for the last day of school.
Martha Gerow, A/Principal
Good morning,
Just letting everyone know Fun Day is a go, June 24th!!  Thank you to all those who have volunteered.  For those working the morning and all day, please report to the gym for 8:15am, and those coming in for the afternoon shift, please report to the Gym for 12:00.
Thanks,
Rosa Willner
Secretary
We are still in need of volunteers to make Fun Day work. We require 12 more parents for the morning shift (8:30 to 12:00), and a minimum of 6 for all day (8:30 to 2:30), and we have one spot open for an afternoon shift (12:00 to 2:30). If we do not received sufficient support, regretfully we will need to cancel the event, we will advise Thursday morning if this is the case. Please contact Ms. Willner if you are able to help out, rwillner@sd62.bc.ca or call 250 474-3449. It would be a shame to have to cancel this fun event.
Thank you.
Martha Gerow, Acting Principal
Lakewood Elementary School
Dear Parents/Guardians
Thank you for all your support this afternoon as we went through the procedure of Hold and Secure for a first time. Your patience as we ensured students were safely collected by a parent, guardian or assigned adult was very much appreciated. It is essential for the school to know that each student is safe and that is why we had you sign your child out.
Due to the nature of the afternoon events we were unable to post updates with regard to information that was going out by Auto Dialer.  This was around pick up at the school and with Bussing updates.
It was a learning opportunity that has helped give us a picture should we need to do a similar procedure in the future. I wish you all a safe and relaxing weekend.
Martha Gerow, Acting Principal
Lakewood Elementary
Yesterday during our Gyro Park Beach Day, a situation took place that has worried many parents.  There is also a letter attached.
A parent reported to the Saanich Police and principal what they felt was a suspicious event in the public washroom. The police arrived, dealt with the event and spoke with both the parent and myself. In follow up, the police fully investigated the incident and found no wrongdoing.
As a safety precaution a staff member monitored the washroom for the duration of the day. Please note we have a protocol in place for students using public washrooms when on field trips.
The safety of our students is paramount to all members of our school community. Thank you for your continued support and diligence in keeping our students safe.
If you have further question please do not hesitate to contact me at 250-474-3449.
Sincerely,
Martha Gerow, Acting Principal
Gyro Park Incident~17 June 16.docx
We have been contacted by the CRD regarding the closure of Cadboro Bay Beach for swimming and wading.  Due to the heavy rainfall and overflow from Hobbs Creek, the advisory has gone out that there is no swimming permitted for the next week or so. We are still going as there is a big beach area and park for students to engage with.  A reminder to all parents that we will be leaving the school at 9am.  Please ensure that you child is here at 8:30 for attendance purposes.
Thank you.
Martha Gerow, Acting Principal
Library Books – If your child has any Lakewood Library books at home, please send them back this week as we are doing an inventory of all library books for the end of the year closing.
Thank you.
Martha Gerow, Acting Principal
Lakewood Elementary School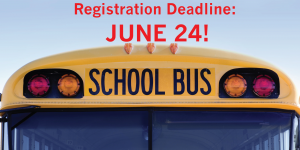 If your child requires school bus transportation beginning in September, you MUST register by Friday, June 24. Registration now takes place prior to the start of the school year and there will not be another opportunity to register after this date.
Register now! (http://www.sd62.bc.ca/about/transportation/)
Thank you,
School Board Office
Transportation Department