Dear Lakewood families,
Our next hot lunch is White Spot and will take place on Friday, November 17th. For more information and to place your orders, go to our Website Tab: Parent/PAC/Hot Lunch. Orders are due by Friday, November 10th at NOON.
Volunteers are always needed! If you can volunteer an hour of your time and/or need assistance, please email lakewoodhotlunch@gmail.com.
Thank you!
Lakewood Hot lunch Committee
Please see attached Important dates to remember from PAC, or follow the link to their tab on the Website for other important information.
Good morning,
Please see the attached information for next Wednesday's Family Magic Show and Meet the Staff Night.  We hope that everyone will be able to make it as it will be a fun event to start our year. 
Family Magic Show and Meet the Staff Wednesday, September 20th  
Meet the Staff Night will be next Wednesday, September 20th.  This year there will be a food truck on site for you to purchase food.  Judy's Snack Shack Menu is attached.
5:00PM Food will be available for families from 5PM on.  CASH ONLYJ  Classrooms will be open and families are welcome to check out their child's new classroom.
5:30PM -6PM Mix and mingle with staff on the basketball court and in the gym area.
6:00PM- 6:30PM Family Magic Show with Jason Verners http://www.jasonverners.com/
Have a great day.
Bryan
Dear Families,
We are excited to announce  the return of our Pizza / Hot Lunches for the 2017/2018 school year.  Thank you to the parent volunteers for running these programs.
Please find attached information on how to register for our Pizza/Hot lunch program.
The link to the hot lunch website can be found here : https://lakewood.hotlunches.net/  or on the school website or by clicking the shop now button on the PAC Facebook page.
This is a PAC volunteer led program.  Any questions please direct them to lakewoodhotlunch@gmail.com.
Online ordering will open on Friday September 15th!
Thank you for your support,
PAC Hot Lunch Team
Good afternoon,
As we do each year, Lakewood will be sponsoring a Terry Fox Run.  This year's run will take place on Friday, September 22nd  at 1:00pm.  Please see attached information on how this looks, and fundraising protocol.
Lakewood Staff
Hello Lakewood Families,
The Dance, BBQ and Auction are only 2 weeks away and we have not sold many tickets nor do we have very many helpers for the event.  Please see the attached newsletter for more information.
It would really help the organizers of the event if tickets are purchased soon so we know how much food to prepare.
We may have to scale back a few activities if we do not have enough volunteers.
Information can be found on the school website and the PAC Facebook  page.
Interested in checking out the band? Click the link below.
Thank you,
PAC
Questions? Email:  lakewoodhotlunch@gmail.com
GET YOUR TICKETS NOW-ON LINE!!
Tickets on sale now. Please spread the word about this fun event. This band really puts on a great show. Tickets are $15 per family and will be $25 at the door. Invite your friends!
http://www.brownpapertickets.com/event/2926980
Link to the Band: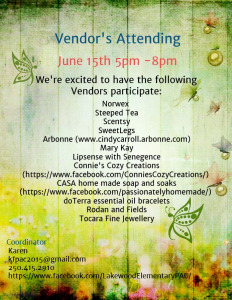 Thanks,
PAC Fundraising Committee
Please see attached information on Yearbook ordering:
Thanks
Rosa Willner
Secretary